Our sustainability program

We are committed to sustainable development, based on the «SWISSTAINABLE» sustainability program. Here is a selection of the measures implemented at the Hotel Bellevue Palace that are important to us:

Bed linen and towels to save water, energy and chemicals
The linen is not changed every day, but you can decide for yourself. There is a cord on your dessert table; if you want your bed linen changed, put it on your pillow. If the towels are in the bath, they are replaced with fresh laundry.
—–
The number of bath towels in your room has been reduced. However, the governess will be happy to bring you additional towels if you wish.
—–
Soaps, shampoos and their bottles are transformed into life-saving products through the non-profit organization SapoCycle. The soaps are recycled by people with disabilities and then distributed to improve hygiene conditions for families in need.


Supply chains, reduction of waste and food waste
We sensitize our suppliers and partners to sustainability.
—–
We take into account the origin of the products, their packaging and delivery routes. Whenever possible, we buy regionally and nationally.
—–
We pay great attention to avoiding waste, especially plastic. Plastic is gradually being reduced wherever possible.
—–
We consistently recycle paper, glass, PET, plastic containers, aluminium, metal, light bulbs, electrical material and batteries.
—–
In order to enhance your return trip experience, we are delighted to offer you mineral water in PET bottles before your departure. PET is completely recyclable as long as it is disposed of properly. We kindly request that you dispose of the PET bottle appropriately after use to facilitate the recycling process.

Food & Food Waste
There are various alternatives to meat available. The vegetarian/vegan range is constantly being expanded.
—–
In order to avoid food waste, we reduce our buffets where possible, including at breakfast. However, you will find an adequate "à la carte" offer as an alternative.
—–
Swiss mineral water or Bernese water is available on request.
—–
Tea is organic, coffee from a certified supply chain.
—–
Food leftovers are processed into biogas and green waste from the floristry is composted.

Traffic and arrival
Use public transport to get here. The SBB train station is just a few minutes' walk from the hotel.
—–
We offer our hotel guests a free ticket for free use of buses and trams in the city of Bern.
—–
We offer charging stations for electric vehicles, but charging will be charged.

State-of-the-art technology
98% of all conventional light bulbs were replaced by LED technology by the end of 2022.
—–
The lighting at night, e.g. in the guest corridors, is deliberately reduced.
—–
IInstallation of motion detectors in all rear areas of the hotel.
—–
Saunas are operated at reduced times. On request, however, these can be heated up for you with a short lead time of 30 minutes.
—–
An intelligent and automated ventilation control system is installed in the lobby, salons and kitchens.
—–
Reduction of the ventilation running times in the public rooms and in the back of the house.
—–
Load management controls the peak consumption of large electrical devices.
—–
Heat recovery from the ventilation systems.
—–
The air conditioning systems are only operated at a reduced rate, usually with a difference of approx. 5° C to the outside temperature. Lowered roller shutters and awnings also help protect against heat radiation in summer.
—–
Reduction and correct use of chemical products and detergents.

Team awareness
A "Green Committee" raises awareness among Bellevue Palace employees about awareness, behavior and responsibility towards the environment.
—–
We learn something new every day and look forward to your input and feedback.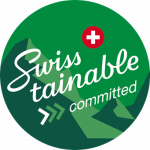 Sustainability program of Swiss tourism.
We are aware of the responsibility for the sustainable development of our company and do everything we can to ensure that our grandchildren can still travel and experience our destination in all its fascinating beauty and diversity. We are thus making a contribution to the implementation of the 17 Sustainable Development Goals (SDGs) adopted by the UN and to the Federal Council's Sustainable Development Strategy 2030, as well as to positioning Switzerland as a sustainable travel destination. We always take ecological, social and economic aspects into account in all our decisions and control them with prudent management.